Access details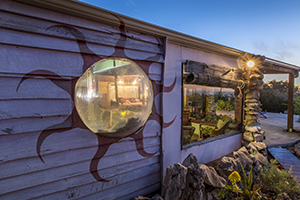 Access details are provided once the final balance, as well as the refundable security deposit, are received. A map of how to access the Shack will be emailed to you.
Bedding configuration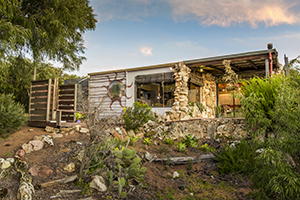 The Shack has four (4) beds and can sleep a maximum six (6) people.
The Shack is completely open plan and there are no separate bedrooms. Only the bathroom is a separate room and is closed off by curtains.
There is one (elevated) king size bed, one double day bed and two single beds.
One single bed is located behind the head of the king size bed and the other single bed is located on the left hand side of the king size bed, along the bathroom wall.
The double day bed is located in the 'sitting' area and serves as a sofa in the day time.
Please specify which beds you need made up. No linen is kept on-site and is ordered specifically for each booking.
Checking in at The Shack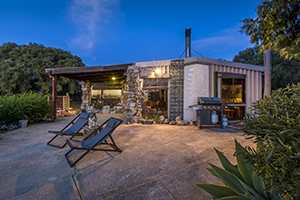 Check in time is 2.00pm.
Fresh linen is provided ie sheets, pillows, pillowcases, bath towels, hand towels, bathmat and tea towels.
Please bring all your supplies with you because other than a basic supply of toilet paper and cleaning products we do not provide any consumables.
In the cooler months at the Shack there is a reverse cycle air conditioner as well as a small internal fire place. We provide some wood and a wood splitter in the shed and a small complementary supply of matches and some firelighters for your use. However, these will not be restocked during your stay due to costs constraints. Guests are welcome to forage around our property for any dry kindling. Alternatively wood and kindling can be purchased at the service stations in Dunsborough prior to your arrival.
The nearest shop is the Yallingup General Store (basic supplies only) which is 10 minutes away by car, but Dunsborough has a major supermarket and is 20 minutes away.
If you are arriving after dark, please take a torch with you as there are no outside lights left on at the Shack.
Checking out of The Shack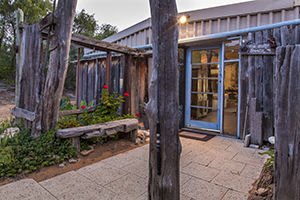 Check out time is 10.00am to enable enough time for us to prepare for the next guests.
Here is what you need to do before you check out:
Clean the BBQ, and return it inside where you found it, otherwise a $50 cleaning fee will be deducted from your security deposit
Ensure the gas is turned off at the stove and the BBQ.
Any furniture that has been moved is back where you found it.
All used white linen (sheets, pillows, pillowcases, bath towels, hand towels, bathmat and tea towels) are placed by the front door but do not remove doona or cushion covers.
Wash, dry and put away all crockery and cutlery items.
Empty the fridge and freezer and throw away any other unwanted food items.
Put rubbish bags in green bins located in the tin shelter and ensure lids are secure (all rubbish is removed manually so please be considerate of our cleaner who has to remove it!).
Close and secure all windows and doors.
Return the keys to where you found them.
Facilities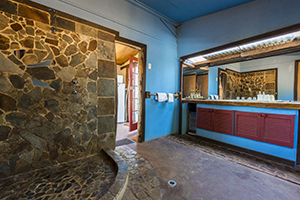 The Shack has all the modern amenities including a fridge, microwave, stove top gas burners, a hooded BBQ (you can roast in it), iron and ironing board, a reverse cycle airconditioner (cooling and heating), a fireplace (firewood provided), a stereo and both an indoor and outdoor shower.
All linen is provided – sheets, pillowcases, towels, hand towels, bath mats, tea towels… but bring your own beach towels.
Fire information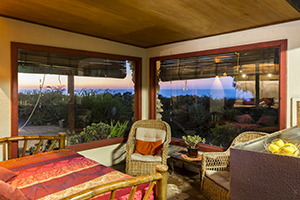 The Shack is located in an EXTREME FIRE RISK AREA so please read the fire information that will be sent to you very carefully.
Smoking inside the Shack is strictly forbidden. Sand buckets are provided outside the Shack.
Please always check that you haven't left the gas on at the stove or BBQ during your stay.
If you see or smell smoke in the area, EVACUATE IMMEDIATELY as per the fire information included in your final confirmation.
Fireplace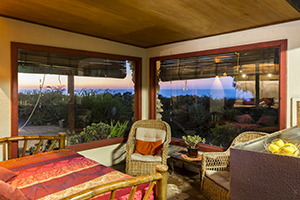 Do NOT use the fireplace inside the Shack between 1 December and 28 February of the following year.
Our cleaner will clean out the fireplace after your stay and discard the ashes/coal in a metal bin and spray with water.
DO NOT EVER throw ashes/coals into surrounding bushland!
Floor surface
The Shack is a quirky little place, cobbled together with all sorts of materials. The flooring is uneven in some places and as one guest said "there is a fireplace rock" near the fireplace which sticks out of the floor and on which you may stub your toe(s)… so please be careful!
Mobile phone coverage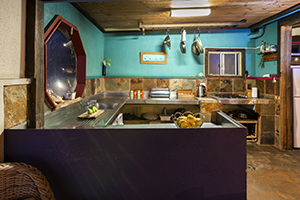 Mobile telephones do not very well work at The Shack however there is a telephone for local calls or emergencies and the number will be provided with your access details.
No pets allowed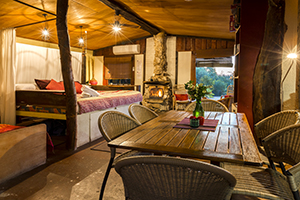 The owners are absolute animal lovers BUT unfortunately pets are not permitted at the Shack because it is located in the Leeuwin-Naturaliste national park.
This means that there are strict conservation covenants on the property title that explicitly state that domestic animals are forbidden.
The owners of any domestic animals found in a national park may be fined by the local shire rangers.
No school leavers
The Injidup Surf Shack is not suitable for school leavers and bookings are not accepted during this time.
Peaceful enjoyment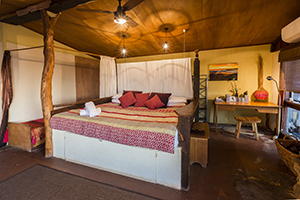 We take our guests' right to 'peaceful enjoyment' very seriously. This means we do not give out the Shack's exact location to anyone except a paying guest.
Should you be disturbed by loud music from neighbouring properties, or trespassers, please do not hesitate to contact the Dunsborough Police Station to report the matter on 9781 3030 during office hours or 131 444 after hours. For life-threatening emergencies only, dial 000.
The same laws regarding noise and trespassing apply at the Shack as in the Perth metropolitan area.
Some more information about staying at The Shack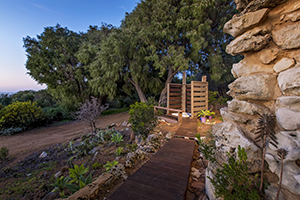 Here is what you shouldn't do:
Leave doors or flyscreens open, as critters such as the resident lizard or the odd sunbaking snake could enter the shack. Summer brings them out.
Overfill the bins – please be considerate of our cleaner who has to empty them as all rubbish is removed manually! Feel free to leave recyclable goods in boxes.
Put broken glass in either bin – wrap it securely in newspaper.
Do not park your vehicle on the concrete slab/patio.
Chop wood on the deck or inside the Shack.
Move the barbecue or any other furniture without putting it back or a fee will be charged to have it moved back into its original position.
Flush sanitary products or condoms down the toilet as a blockage may spoil your holiday (or the next guest's!).
The Shack is a privately owned holiday home – it is not part of a chain of hotels or managed by a large property management company.
We don't offer discounts as the nightly rate is calculated on what the owners deem reasonable, as well as to cover the many costs associated with the location of the Shack and offering it as a holiday rental:
Rubbish removal (no council rubbish service is available – all rubbish is removed manually by our cleaner after each guest leaves)
Water cartage (no scheme water is available – only the water that is in the tank, which is regularly carted to the property)
Electricity and gas supply
Wood supply
Linen
Cleaning
Pest control
Fire breaks