Holiday house just south of Yallingup
**Before booking your stay, please check the WA Government website for any updates about COVID-19 or controlled borders (interstate or intrastate) that may be relevant to your personal circumstances.**
Are you looking to escape and unwind from the frantic pace of your life? Are you looking for Yallingup accommodation with a difference?  The Injidup Surf Shack is the perfect holiday house, just south of Yallingup, in Western Australia's beautiful south-west.  It is a back to basics holiday home, cosy in winter, cool in summer and just a one minute drive away from a pristine surfing and swimming beach.  Whether you are looking for a romantic weekend escape, honeymoon or some time to re-connect with the family, then the Shack is the perfect place for you.  It is ideal for couples or parents with their kids.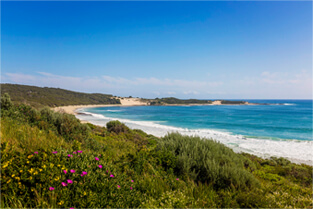 When we say back to basics, we really mean it! There is no TV and no WiFi but there is a small stereo if you like a bit of music and some board games.  You may like to lay for hours in the big king bed and contemplate the bush and the ocean, or, if you are up for an outing, you are just a short drive away from some world class wineries, breweries, ice creameries, bakeries and natural attractions only found in this part of the world.
Yallingup accommodation with a difference
There are some lovely holiday rentals in the area,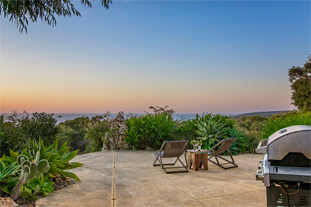 but none more secluded than the Injidup Surf Shack. It is nestled in the bushland of the Leeuwin-Naturaliste National Park.  There is an expansive deck for you to enjoy the views over Cape Clairault, cook your barbecue dinner, or even take a shower whilst gazing out over the ocean.
We love welcoming returning guests… some people return several times a year or every year at their most favourite holiday time. As you will see from our reviews, we are so delighted that some guests think of it as their very own holiday home! We even keep a register now of people who have expressed interest in buying the Shack if the owners ever decide to sell… stay tuned!
If you are looking for five star accommodation with sparkling new decor, room service and spa treatments, then the Shack may not be for you… but if you are seeking a relaxed, comfortable holiday location  where you can re-connect with nature and your loved ones, then the Shack is waiting for you!
Book your stay at the Injidup Surf Shack today!